Those who have been following our blog for a while now probably already know that I am a liiiittle bit obsessed with skin- and haircare products. Even though I chopped the majority of my dead hair off last month, I still use quite a few products on my hair which I want to share with you.

As you can see, I am quite a Kerastase fan. I have been using salon products only for the past year so I haven't tried many brands but it is definitely better than the Sebastian products that I have mentioned before in this post. The Sebastian 'Penetraitt' products were a bit too heavy for my fine hair.



Basic care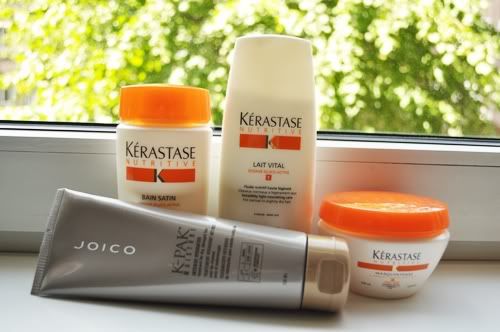 I really enjoy using the
Kerastase
'Nutritive'
line as it is able to moisturize my hair without weighing my hair down. The
'Nutritive'
line is divided into 3 types;
1
is for
'Normal to slightly sensitised hair'
,
2
is for
'Dry, sensitised hair'
and lastly,
3
is for
'Very dry, sensitised hair'
.
I use type
'2'
for my shampoo and
'1'
for conditioner. I might switch to
'2'
for my conditioner after I finish my current bottle because I feel like I might need the extra bit of moisture for my hair.
To give my hair a little treat, I like to use a deep condtioner at least once a week. I have been switching between the
'Masquintense'
for fine hair and the
Joico
'K-PAK Moisture Intense Hydrator'
. The
Joico
one is for heavy duty moisturizing so I only use it when my hair is drier than usual.
Additional care

After I was my hair, I use a leave-in-conditoner and/or heat protectant. Currently I am alternating between the Kerastase 'Nectar Thermique' and 'Oleo Relax'. Both have conditioning and heat protecting properties and I can't decide which one I like better, but my mother prefers the 'Oleo Relax' cause it makes her hair look glossy.



When I don't style my hair, I use the Schwarzkopf 'BonaCure Moisture Kick' or the Kerastase 'Noctogenist Voile Nuit' for fine hair. Not a big fan of the re-formulated 'BonaCure Moisture Kick' as the scent is way too strong for my liking.

Styling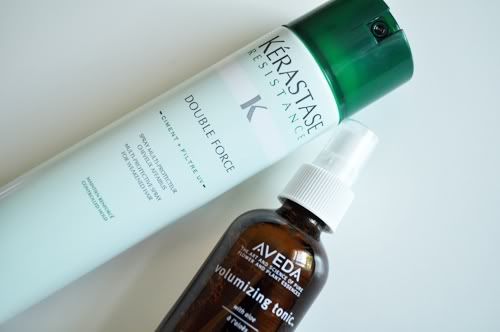 Last but not least, well ironically it is the least in quantity, my styling products! My trusty tools are my large round boar bristle brush by Kent and hair dryer by Remington which I use to blowdry my ends inwards. And when I want BIG hair, I'll use the Aveda 'Volumizing tonic' (short review here) and set it with my favorite hairspray, the Kerastase 'Resistance Double Force'.



Phew, what a long entry!

If you are interested in an in-depth review of any of these products just let me know and I'll gladly fulfill your request!

And in case you were wondering, this is what my current haircut looks like.