Benefit High Beam

This product does wonders for my somewhat sallow-looking skin. I have been mixing it with my foundation and it gives me wonderful glowy skin! Unlike other highlighters, this product is not glittery or shimmery, but has an irredescent glow to it.
'High Beam'
is a silvery, pearly pink whereas
'Moon Beam'
is a peachy gold. I highly recommend this product for those with dry skin and have trouble creating that natural glow with any
'dewy'
foundation.
Koji Dolly Wink Liquid Eyeliner

Not only is the packaging super adorable, the product itself is an idiot-proof eyeliner with great lasting power. I initially bought it to put in my make up bag and use it for touch ups, but it works better than I expected! The lasting power is similar to a gel or cream liner, but application is a lot easier since you do not need a seperate brush. The applicator tip is slim and firm so you can draw a thin line very easily. It does smudge a little now that my eyelids are oilier in the summer, but applying a bit of powder or primer on the lids should fix this problem.



The Body Shop Vitamin E Lip Care SPF 15
(I peeled off the label for the ingredients list

)


My lips are often severely chapped and this really does help nourish them. It does not contain petroleum jelly/petrolatum unlike many lipbalms and it also has an SPF of 15. It does not have a very high SPF factor, but that does not matter because I re-apply my lipbalm quite frequently. Another reason why I love it is that it is also paraben-free!



Aveda Volumizing Tonic

I use it on clean, slightly damp hair and then I blow-dry it using a large round brush. It works pretty well for my fine hair, but nothing A-MA-ZING. It looks pretty good when I just finish blow-drying but after a while my hair will gradually start losing its volume. Perhaps using a hairspray would solve the problem but I have yet to find a good hairspray that will not weigh my hair down or make it feel crunchy. I love the fact how it does not leave any heavy or greasy feeling on my hair, in fact it feels there is no product at all. I wash my hair every other day and even on the second day, my hair feels very clean.



Laneige Strawberry Yogurt Peeling Gel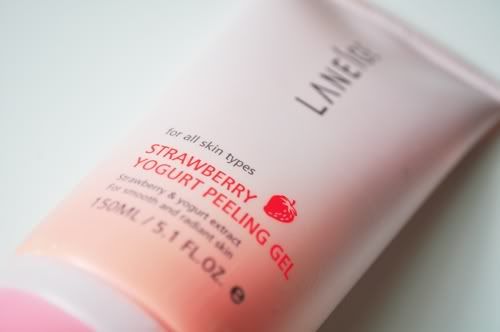 This has almost completely replaced my exfoliator. I find that I only have to use an exfoliator on certain areas such as my chin and my forehead which tends to get bumpy during that time of the month.
My skin does not get irritated at all when I use this. No stinging or redness at all! The granules do not feel harsh because they are wrapped around in a layer of gooey gel which allows it to glide on the skin. It does have a strong, artificial strawberry yogurt scent, so I do not recommend this product if you are very sensitive to fragrance.