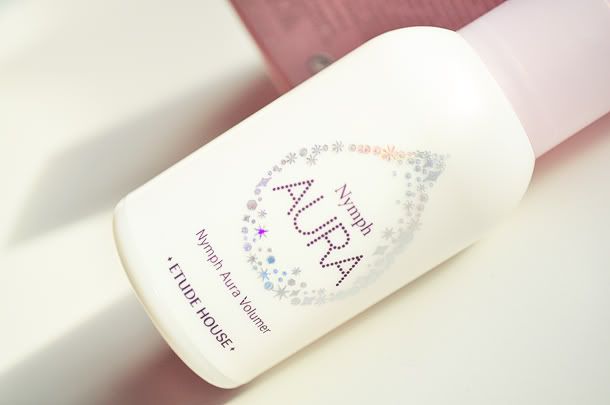 Product description: Makeup Multi-Cream maximizing the radiance and dewy glow on skin, completing flawless skin with plumped up moisture

Direction of use:
Apply evenly on skin with 1:3 mix of BB cream or foundation.
Use foundation brush or BB brush to get perfect blending.
When used for highlighting, apply on the nose, forehead and cheekbones with the Volumer alone.

The product

The Etude House 'Nymph Aura Volumer' comes in two shades, #1 Pure Honey, a peach toned honey shade and #2 Brilliant Nymph Aura, an opalescent light pink.

When I purchased the product on eBay, I did not know what to expect since the product was newly released and there were not many reviews on the internet. The 'Nymph Aura Volumer' is surprisingly similar to the Benefit 'Highbeam'. It is thinner in texture, but both products are light pink liquids that provide a pearly sheen. The Etude House 'Nymph Aura Volumer' has a pink lilac sheen whereas the Benefit 'Highbeam' is light pink with ultra fine silver shimmer.




The 'Nymph Aura Volumer' seems to blend better with foundation and BB cream due to its light texture and it tends to look more natural as the 'Highbeam' can look slightly 'metallic' because of the silver shimmer.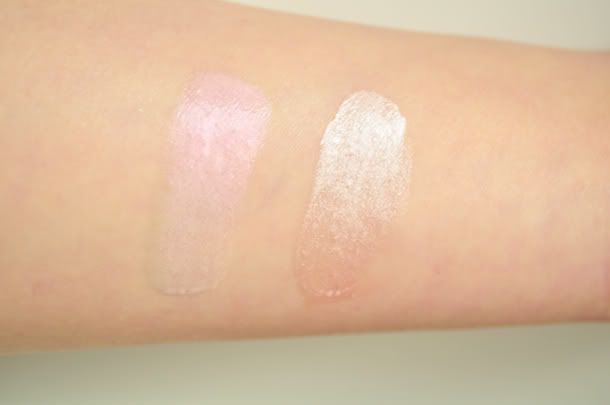 When swatched side-by-side: Nymph Aura Volumer (left), Highbeam (right)
The verdict

When mixed with foundation, the 'Nymph Aura Volumer' gives a soft sheen to the face which is great for dry skin. It really does make your skin look more moisturized. The liquid is pearly rather than shimmer, so there won't be any shimmer particles which can sometimes accentuate large pores. When mixed with BB cream, it enhances the dewy effect and can look borderline oily.

The only downside to this product is that it is very, very, very (!!!) heavily scented. I could even smell it on the inside of my arm while I was taking photos of the swatches.

This is also the reason why I do not wear it on a daily basis because I do feel that it causes a bit of irritation on the skin. I only wear this when I have special occasions. I do not notice the scent after 5 - 10 minutes after application, but I am not completely sure if the scent fades away or if it is simply because I get used to the scent after a while.

This is a nice product to have for those who want to get a healthy, glowing complexion, but it is not as unique as I thought it would be. It can easily be substituted by MAC 'Strobe liquid' or any kind of liquid highlighter.

Rating: