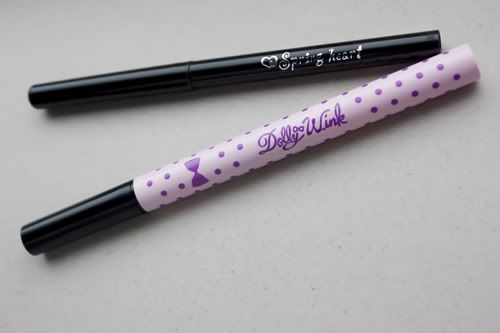 For years I've been looking for eyeliners that are able to stay on all day without smudging. My eyelids are quite oily, so lining my eyes could become a real disaster if I am not using the right eyeliner. Fortunately, Koji eyeliners have been working really well for me. I will be reviewing the
Dolly Wink Liquid Eyeliner
and the
Spring Heart Long Lasting Eyeliner
, divided in two posts (to avoid making it too long). Continue reading if you want to know more about them!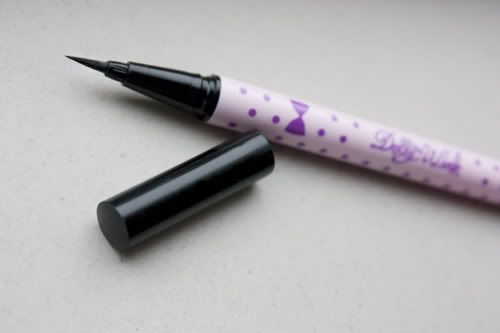 Product description: Koji Dolly Wink Liquid Eyeliner has a ultra fine yet flexible point tip, which allow greater precision with a easy to handle eyelining experience. The deep dazzling black can accentuate the glamorous eyes of yours, giving you a more defined look. This eyeliner is waterproof, sweat proof and with the quick dry formula, the eyeliner can stay on for hours without a smudge. Your look will be long wearing and gorgeous even without touch-up.

How to use it: Use the pencil to fill the spaces between your eyelashes and draw a smooth line just above your lashes.

Retail price: $12.50 (ordered at Sasa.com)
The product

The fine tip makes lining your eyes super easy, whether you want it thick or very thin. I also have no problem using it to fill between the eyelashes to make the eyelashes look fuller. If you swatch it on your hand, it is definitely water- and sweat proof; it can stay on whole day even after taking a shower.

On your lids however, you do need to do a little more effort for the same effect if you have oily lids like me. I always prime my eyes with the Too Faced Shadow Insurance and put on at least a layer of eyeshadow on top of it beforehand. If I'm winging my eyes, I'd put some light coloured eyeshadow below the 'flick' (I really like using the Revlon ColourStay eyeshadows for that). This way the liner will pretty much stay on all day without smudging.

However, I've had days when I got teary eyed (because of yawning..I yawn quite extreme for some reasons) where the liner would get off by a simple wipe. Curling your lashes with an eyelash curler afterwards can also cause some of the product sticking onto your curler instead of your lids. I don't see that as a big problem, but it's definitely something to put in mind when you use this eyeliner.


The pigmentation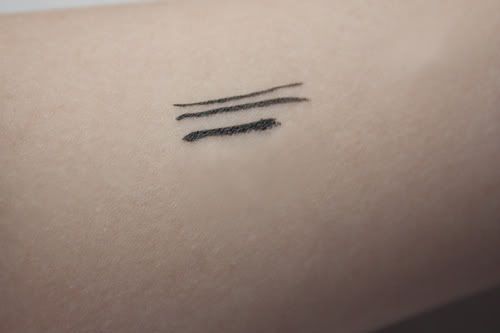 The Dolly Wink eyeliner is incredibly black and you can definitely build up the intensity a bit by applying a few layers on top of each other.

And a picture to see how it's on the eye: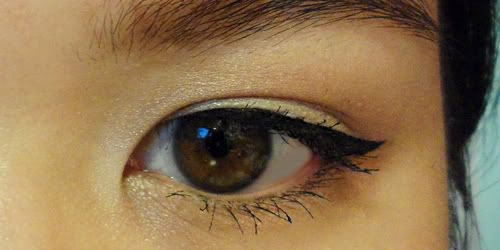 The verdict

It's not the perfect liquid eyeliner, but it's close enough to that for me. It's great quality for its price, so I'll definitely keep using this until I find something even better.



Rating: 4.5/5