Hey all! Just a quick post to let you guys know that
Google Reader/Friend Connect
is supposedly going to be shut down on July 1st. From what I understood,
Blogspot
users (
bloggers among us
) will still be able to use it; non-users will have to find something else to keep up with the updates. Not too sure if I am right on this one, but I do know some ways to make sure you do not lose your subscriptions!
Bloglovin'
You might have already noticed the button on the right side, but it is also possible to follow us on
Bloglovin'
. Now that
Google Reader
is closing down, they have provided the option to move your subscriptions from
Google Reader
to
Bloglovin'
by simply clicking one button.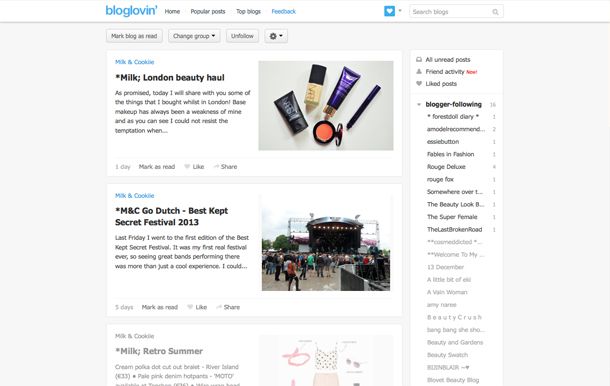 This is how your feed will look like, quite pretty right? It has a very clear interface that is very simple to understand. If you are looking for new blogs to follow,
Bloglovin'
has a whole rating system going on that shows you the top blogs and posts from different kind of categories such as beauty, art, photography, etc.
Click here to move your Google Reader subscriptions to Bloglovin'!
Feedly
And then there is one that is less known in the beauty blogosphere:
Feedly
! I personally prefer using Feedly for my subscriptions because of its more user-friendly interface. It marks the post as read as you hover through the title, so you do not have to mark it as read by clicking on every single entry. It is a less social reader as it does not really collect much data of the blogs, so you would not be able to find new blogs like you can on
Bloglovin'
(
They seem to have the search feauture though, just not as advanced as the one from Bloglovin'
).
Quick glance of the interface. A bit boring to be honest, but it definitely does its job well.

Feedly
also allows you to move your
Google Reader
subscriptions with a single click, but sadly enough they do not have a button to easily add a new subscription to your feed.

It is still fairly easy to follow new blogs though, all you have to do is click the '+Add Content' button and add the URL of the website. This is also where the search feature is if you want to look for new blogs, but I am honestly not too sure about it yet.

Click here to move your Google Reader subscriptions to Feedly!
Hope this will help you guys a little with finding a substitute for
Google Reader
so that we can stay in touch!


TWITTER | INSTAGRAM | FACEBOOK | BLOGLOVIN' | TUMBLR (COOKIIE)