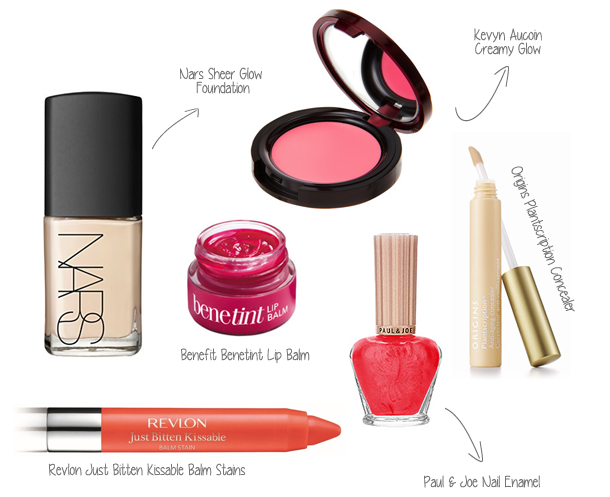 My cousin and I will be going to London in the beginning of June for a 4-day shopping trip!

Tiffany and I have been there together twice before and both times we ended up spending
a looot
of money.

This time, to prevent myself from making impulse purchases, I made a list of items that I have been lusting after for a while. So here are a few things that I wish to buy or at least check out whilst in London.
1. Nars Sheer Glow Foundation: This is my favourite everyday foundation! It sits very comfortably on the skin yet is able to give a good medium coverage. The shade that I use is 'Ceylan'. Nars is not sold
in the Netherlands anymore, so I can only purchase this online but the Nars website charges a pretty high shipping fee.

2. Kevyn Aucoin Creamy Glow: Since summer is approaching soon, a cream blush would be a great way to achieve a more healthy and glowy complexion. The shade that appeals to me the most is 'Isadore'.

3. Benefit Benetint Lip Balm: This lip balm will give the lips a cherry red tint with a jelly-like finish. The original Benetint is a bit drying on the lips so this would be a great alternative.

4. Paul & Joe Nail Enamel: I already own two of these and absolutely love both of them! The shade that I want is number 14 'Strawberry Glaze'. A bright pink toned red with fine shimmer and a jelly-like finish.

5. Origins Plantscription Concealer: Origins skincare is now also available in the Netherlands, but unfortunately they don't sell any of their makeup products. This sounds like a great concealer for under the eyes since it is supposedly very creamy and does not settle into fine lines.

6. Revlon Just Kissable Balm Stains: Another hyped about product that is not available here! I have always been very interested in the 'Clinique' Chubby Sticks, but they are so sheer. These seem to be much more pigmented and cheaper too!
Now let's just hope that I won't stray too much from my to-buy-list.


TWITTER | INSTAGRAM | FACEBOOK | BLOGLOVIN' | TUMBLR (COOKIIE)