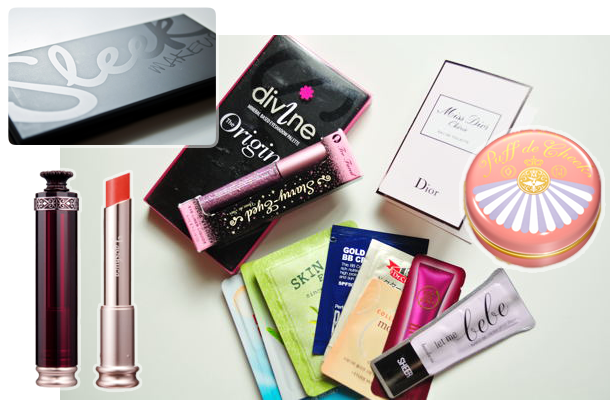 Milk & Cookiie turned
two
today, yaaaay !!!

Looking back, we know we weren't as active as we used to in year 1. We failed to make any YouTube videos as well, which we promised to do at our last anniversary.

We have a lot of reasons
and excuses
for that, but let's not bore you guys with that. We'll from now on refrain ourselves from making empty promises, and only announce things when we actually got things ready.

Enough with all the blabbering, we know you're here for something completely different. On to the giveaway!
The prizes

A 'Sleek' Original Eyeshadow Palette and a 'Too Faced' Starry-Eyed Liquid Eyeliner in 'Mad Mad Love' bought during our London trip (Yes, we thought about you guys! ♥). A 'Lavshuca' Dramatic Memory Rouge in PK-1, a 'Majolica Majorca' Puff de Cheek in Apricot Macaron which are still in transit to Holland from Adambeauty.com. And of course the usual samples.

The Story Tag!

This year, we decided to do something different than the usual contests we do. After two years, we wanted to get to know our followers better; so what's a better way to do that than doing a tag? For this giveaway in particular, we made up The Story Tag!

It's very simple: pick an item you have in your posession that has an interesting story behind it. This can be funny/sad/whatever you want. Make a picture of that item and write down the story behind it. Easy right? Obviously, we wrote down our own stories as examples.

Milk*
Growing up as the only daughter in the family, I was never considered to be much of a 'girly-girl'. My mother would always comment on how she had three sons, not two sons and a daughter! As I went into puberty, my mother started introducing me to skincare and taught me the importance of taking care of my skin- advice which I totally… IGNORED! I was really surprised when my mom bought me my first luxury brand skincare item at age 14 (lucky me!), a self-foaming cleanser by Lancôme!

I looooved it even though the cleanser was far too harsh for my skin but of course, at that time, I did not know better. :D I could not understand how on earth the liquid in the bottle would turn into foam once it came out of the pump dispenser, like magic! (Keep in mind that I was a very innocent little girl with a wild imagination...)

Now that many years have passed by, the roles have turned and I love giving beauty advice to my mother! She told me that she never imagined that I would become such a skincare fanatic and neither did I.
Cookiie*

Remember my Queen's Day post? There's a picture of me on that post where I'm wearing a pair of sunglasses, which is a barely $15 pair from the clothing brand Monki.
I'm not the kind of person that doesn't want to invest in a more expensive pair, because I don't think it's worth it. Well..maaaybe a little. I did want to find a good pair of Ray Bans that would fit me well, but for a long time I couldn't find the perfect pair. And since I was going to pay a lot of money for one, I didn't want to buy one that was just "okay". So until then, I was satisfied with my good ol' Monki sunnies.
Back to Queen's Day. As we were happily sipping our tequila cocktails, we tried moving forward slowly. It is always incredible crowded on Queen's Day, so there would be a certain rhythm you had to keep up if you didn't want to get trampled on. Fortunately it was a slow rhythm, allowing us to look around and enjoy the jolly environment.
And there it was. A pair of sunnies lying on the ground, all lonely and sad. I looked away.

...Wait a minute, wasn't that..?! I stopped and moved aside from the stream a bit. I stared at the pair of sunglasses, and looked more carefully. If there were days where you would be more than glad to have good eyes, then that day was one of them. That day, I found my perfect Ray Bans. Female sized, shaped just right for me. I know I know, I sound like a thief, but I looked around! I looked around if there was anyone trying to find something, but everyone just moved on happily. Talk about guilty pleasure. There are a lot of scratches on it, but who cares? I don't think I could've gotten a better souvenir to remember a wonderful day like that.
Rules & deadline
You have to be a follower of our blog.
All entries are to be submitted via comments on this post ONLY.
To keep it fair, please only submit one entry per person.
A photo is not obligatory, but it would be nice if we could see what it looks like! (It could also be an url or a link to the product.)
The best story will be personally picked by us. (Tip: You do not need to write an essay to win! It can be as short as you want, as long as the story is good.)
The deadline is set on August 11 at midnight GMT.
The winner will be announced in the following week.