Three more days to go! E-mail us your entry asap!! Click here to go to the giveaway post.

It's been a while guys! I just finished retaking two exams, which ends my hellish period full with essays and exams. Hopefully, I'll be able to post more often again, because I have quite some posts planned, haha~

I'm actually doing one of those, which I am feeling quite sorry for. A while ago, my friend Mo from Sweden had a pretty long trip to Japan and South Korea. I guess it goes without saying that I had to ask him for some beauty products right? Haha, thankfully, he didn't mind at all (once again, thank you!! I know you're reading this xD).


The package~ I really like the fact that it's green, I don't know why.

And this was what was in it: Etude products! For the Big Bang fans, he also included me a Big Bang phone hanger, hehe.


These are called Etude House Milk Screws. I honestly don't know why they're called Milk Screws (well they all smell a liiitle bit like milk mixed with fruit flavours), but it's a rather funny name.

They're basically deliciously smelling lip balms that are quite moisturizing too. They give a tiny bit color off, just enough to make you look alive. I asked him to buy the flavours/colours Lime and Mango, but there are three more flavours called Apple, Berry and Coconut.



And these are the Etude House Fresh Cherry Tints. I read about them at A Beautfyful Sentiment as I was looking for lip tints to try out. I really like the colours, they stick pretty well and just like the Milk Screws they smell really nice and fruity (in this case it's cherry flavoured of course!).

Oh, and I got all three colours: Red, Pink and Peach.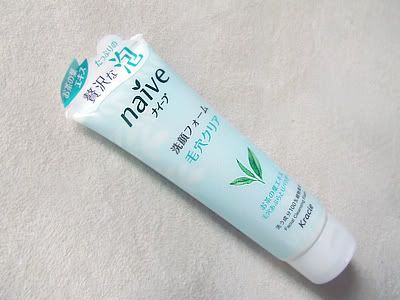 Mo was nice enough to ask me if there was anything I wanted to try out in Japan as well. Since I didn't want to bother him too much, I tried to restrain myself from asking too much stuff.
I asked him if he could get me the Kanebo Naive Facial Cleansing Foam that supposedly has Green Tea extract in it. I haven't tried it out yet as I still have plenty left of my Zarqa cleanser, so I'll have to talk about this product later.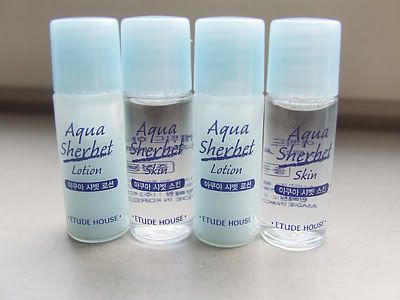 Samples from Etude House Aqua Sherbet~ There was supposed to be some masks and moisturizer samples from the same line as well, but those got lost during travelling.

It's okay though, since I got these handy travel bags! I think it was a gift for purchasing at Etude House, I love how you can get so much free stuff when you buy so little.

That's all! Here's are some extra pictures that my friend took while he was at the Etude House store: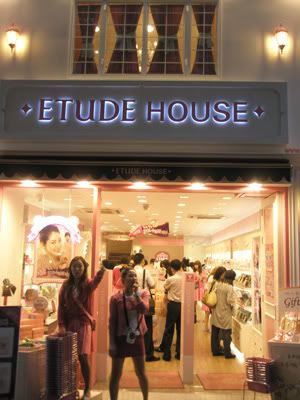 Isn't it adorable ?! My friend described it as pink, frills, flowers, (birds?), fluffy and shiny... and it's so true. xD The roof thingy at the front (2nd picture) is so cute, I wish I was there myself. ;o;

And before I end this post, I want to thank all of you who have participated in our giveaway and that are following us. Milk talked about passing the 100 mark in her last post and now we have 110 followers! Thank you soo much and even though our first giveaway hasn't ended yet, we'll be preparing another one to properly thank you guys. ^^