Yes, after reading Blovet Beauty raving about how great Etsy soaps can be, I finally gave in. Not drying with all natural and non-irritating ingredients soaps and that will actually do its job well, why wouldn't I try them out? Finding the right seller did take me a while, but with great packaging and descriptions, Lauren from DressGreen sure convinced me to make my first Etsy purchase there. Read on if you want to know the whole process starting from ordering until actually using it.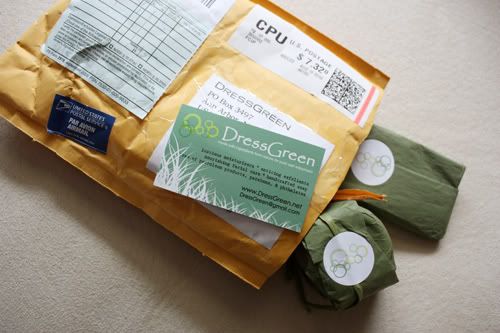 Ordering through Etsy.com was pretty easy; it basically works like any online market stores such as Ebay and Gmarket. The shop cart system works perfect and you can even favourite sellers and items in case you want to save it up for later.

The description pages are written freely by the sellers. Some write down almost everything you could possibly wonder about, while at some you would consider yourself lucky if they wrote down the ingredients list. DressGreen have just about the right amount of information on their descriptions; giving short explanations of what the main ingredients do, telling you how to use a product the right way, ending each page with the same message saying how each product is made from scratch and the complete ingredients list.

It took about three days after my payment for her to ship my package out and it arrived only after four(!) days. I was really pleased by that, since packages from the States to Holland can take up to 1 to 2 weeks.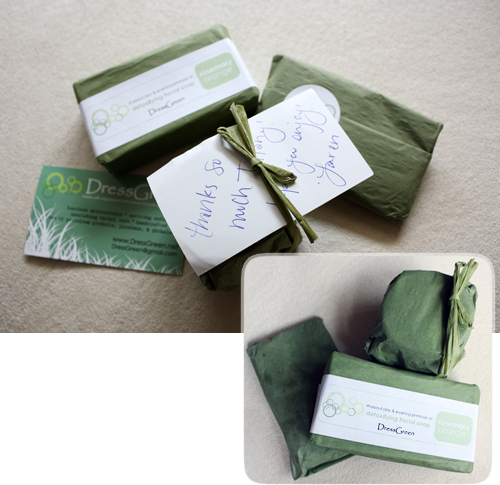 Packaging wise, it looked real cute but somewhat unsafe. Nothing was damaged or anything, but I'm rather used to double-wrapped packages so I'm glad nothing went wrong. That being said, I guess the seller have barely ever had bad experiences with sending packages out this way, so there should be no worries.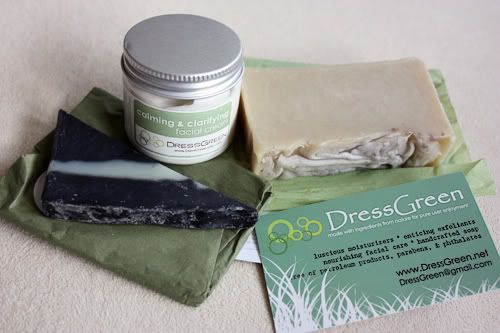 Now finally onto the products! I purchased two things: the Detoxifying Rosemary Orange Facial Soap with Rhassoul Clay and the Calming and Clarifying Facial Cream with a Blend of Seven Botanical Extracts. The 3rd product in the picture is a free sample of her Clarifying Activated Charcoal Facial Soap.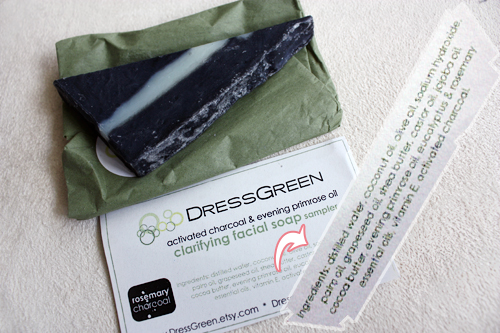 When I first saw this product listed as a facial soap, I thought it'd be waay too drying for my skin. Even though it sounded really nice with all the clarifying and detoxifying effects, I hesitated because I simply never had good experiences with deep cleansing facial wash products in general. However, I tried it out anyways since I got this sample and it definitely did not dry me out at all. I can't really say how effective it is clarifying-wise as I've been using all these three products all together, but it definitely did not dry out my skin or break me out.


While I was looking around for a nice facial soap bar, I didn't really have much expectation. I just wanted one that looked nice and would cleanse my face gently, and the Detoxifying Rosemary Orange Facial Soap with Rhassoul Clay definitely fitted that description. It is full with different kinds of oils and shea butter, and to me clay sounded a little bit less drying than charcoal. I was proved wrong when I used this, because both of them cleanse my face squeaky clean without actually stripping my skin.
I am really impressed with these facial soaps, and I think I'll keep using them for a loong while.



Last but not least, the Calming and Clarifying Facial Cream with a Blend of Seven Botanical Extracts. Right now, I've been using this as my day moisturizer for almost two weeks and I've been liking it a lot. I decided to try this out, because it is supposed to be calming, and the ingredient Wasabia Japonica (Wasabi) sounded like it'd give my skin a tingly feeling on application. If you've read my previous post, you'll know how much I love my Laozhongyi acne cream, so I secretly hoped for a more affordable dupe that works just as well. I have to say it's definitely not the same, as it doesn't tingle as much and the cream has a whole different feeling to it. The Loazhongyi cream feels like a powdery paste, while this cream feels really smooth like butter. Of course it'd have been pretty impossible to be a complete dupe as the ingredients are different, but it does calm my face and it doesn't break me out at all.

Okay, I know I've pretty much raved about all these products, but I honestly think they deserve all the praise. I can't claim that these products really improved my skin as I have been having long good night sleeps during this summer holiday, but it didn't worsen it in any way. If you're looking for non-agressive and non-drying facial products, I definitely recommend trying some stuff out from Etsy.com generally. All these products were very affordable, so they're definitely great if you're low on cash like me haha~