Between the previous Sasa haul post and this post, I actually ordered a few more times than I'm actually going to show on this update. It's just that I don't really remember what I ordered before, so it's going to be a bit difficult to collect everything again for pictures. I'll probably write about them later on anyways, so no worries. Sasa haul begins!


No packages shot this time, since they're all the same. I actually had 3 of them coming in this time, because I ordered twice within a month.

You will probably think it's a LOT, but most of it was actually for a friend and for my mom. xD You can tell if you continue reading this post~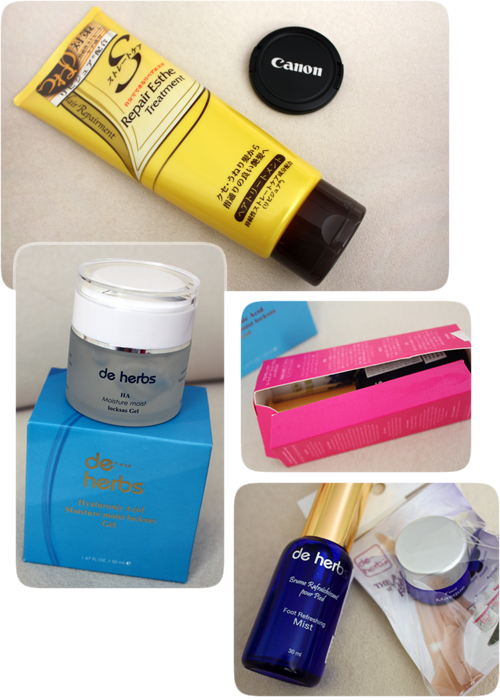 First product is a hair treatment, called Cosmetex Roland
Hair Repairment Repair Esthe Treatment (300g, $7.70). I don't know if you can tell by comparing my lens holder with the tube, but it's huge! I haven't tried it yet, but hopefully it's good.

The jar on top of the blue box is the de herbs HA MOISTURE MOIST LOCKSAS HA Moisture moist locksas Gel (50 ml, $11.50). This is the moisturizer version of the serum with the failed packaging. I've been using it for a few nights now and I kind of like it so far. I actually quite like 'de herbs' in general, as their ingredients contain no fragrances, parabens, etc. I just think their packaging is poor, as you can tell on the picture with the pink box. There is a special offer going on at Sasa.com at the moment where you get free gifts when you purchase de herbs products. I got the Aromatic Hand & Feet Care F/G: Foot Masque (5 ml) and Aromatic Hand & Feet Care F/G: Foot Refreshing Mist (30 ml) which makes me think I have an awful foot odor..but who knows, I'm considering of trying these stuff out, haha.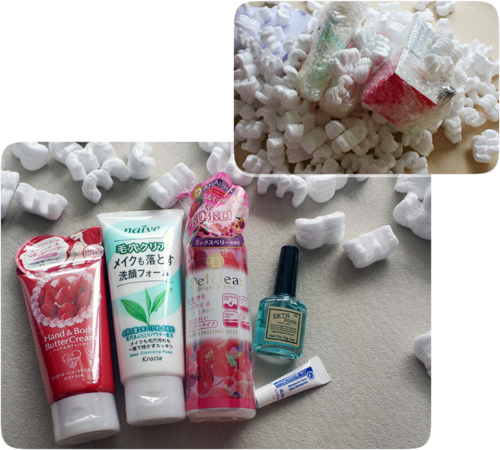 From left to right: Sexy Girl Hand & Body Butter Cream (Strawberry Short Cake) (100 g, $12.60), Kanebo Naive Deep Cleansing Foam (Green Tea) (140 g, $4.20), Meishoku Declear Bright & Peel Fruits Peel Peeling Jelly (180 ml, $12.30), Skin Food Nail Top Coat (13 ml, $3) and a Vitacreme B12 Regenerative Cream (3 ml) sample.


The Hand & Butter Cream smells sooo yummy, like strawberry yoghurt.

They really did try to make the texture look like whipped cream and I think they've done a pretty good job imitating that. It does contain parabens, so I definitely don't recommend it for people who can't have that on their skin. Other than that, it's really moisturizing and it's not sticky at all.

The peeling gel smells really nice as well, even though it doesn't really matter as you're going to wash it off right after anyways. I'm not sure if the smell comes from artificial fragrances or naturally from the essences that they used for this peeling. I can put out the ingredients list if anyone is interested, but I can't read Japanese to find it out myself. :( No parabens though, so that's a big plus! As for the peeling effect, it is working great for me. I got no other peeling gel to compare it with, but I see a lot of dead skin cells coming off when I use this. Afterwards it feels really smooth, so I'm really liking this.

As for the Naive cleanser, it's basically the same as my previous one. I thought it was going to be a lot more foaming, because of some reviews I read on Sasa's website, but it's not. It smells, feels, lathers exactly the same. So probably all Naive cleansers are the same, despite having slightly different names.

I also read some nice reviews about this top coat from Skinfood. I'll be trying it out when I paint my nails tomorrow night!

That's all I got for Sasa hauling. But it's not everything I got from Sasa to show you guys. :P


My Beauty Diary and Hisamitsu masks! I've wanted to try the Hisamitsu eye masks for a while now, but never got to it to order them myself. Milk was sweet enough to surprise me with them when she got back from Hong Kong, so thank you! ♥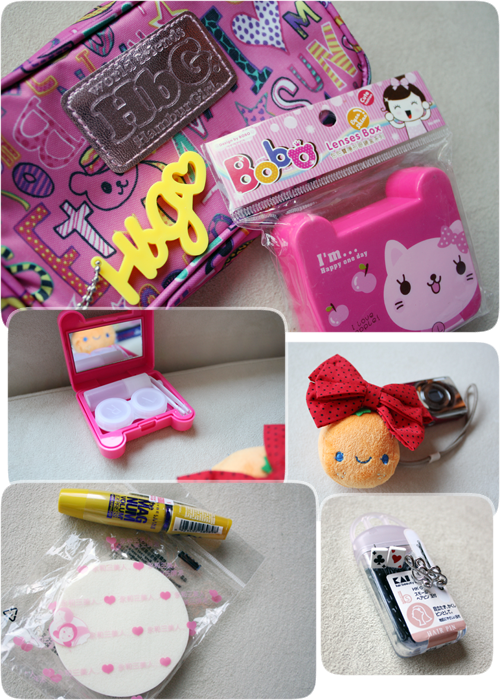 And some more stuff that I got from Milk. And yes, on the make up bag it says "HamburGirl". xD It's totally random, but that's why I like it even more.

She also got me an adorable lenses box and a cute plushie hanger that's looking in the mirror of the lenses box. Oh, and the bow on top of the plushie is actually a clip, and it's really cute. I'm not sure if I'll ever wear it myself though, since I'm not sure if it'll fit me haha~

As you might read from her Hong Kong haul post, she didn't buy much make up, but she didn't forget to buy me some make up related items as well. The powder pad was actually something she remembered Fuzkittie mentioning, so she bought that randomly as well. xD

The earrings are so cute! The first thing I thought was "BLACK JACK!" and I'm sure 2NE1 (a Korean girl group) fans would know what I mean It's their fanclub name. Aand some genius packaged hair pins. I always lose them so this is great for storing my hair pins.

That's all! Barely made it, but I'm done! Ok I cheated by roughly typing it out and published it a minute before 3.28 am but I was basically done As always, don't hesitate to comment and ask/request me anything. ^^