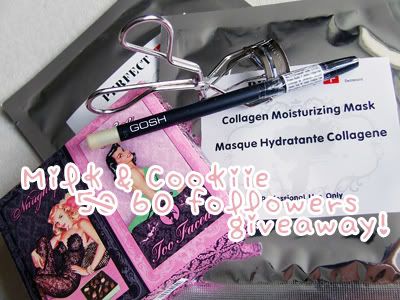 It's finally time to announce the winner of our
50 60 followers contest!
First of all, we would like to say
thank you
to everyone who participated in the contest; I hope you guys had as much fun as we did.

And our followers, thank you for reading our blog and showing support to our vain hobby. hehe...
Don't you just hate it when people keep you in suspense before they announce something? I know I do. So... drumroll please!

Congratulations Mara ♥


Mara was the only person who managed to guess all 14 alternations correctly!

And as we promised, we also selected a random winner from the remaining participants using random.org and the lucky winner is RHiiAN!

Congratulations girls, we will e-mail you about further details~

We would also like to announce that we have reached 121 followers! I can already smell another contest/giveaway coming up so please stay tuned for that!

Now on to the answers! We hope you'll finally have a good night rest again after reading the answers.




Milk*
1.Bigger pupils/eyes
2.Smaller nose
3.Clear skin (no freckles), brighter complexion
4.Smiling more
5.No laugh lines
6.Volumized hair
7.No eyebags


Cookiie*
1.Bigger pupils/eyes
2.Smaller and taller nose
3.Clear skin (no scars), brighter complexion
4.Thicker fringe
5.Altered face shape (jaw & forehead)
6.Enhanced lips (shape & color)
7.Thinner eyebrows