We've also recently received several blog awards from the lovely Zoe and Ceecile! So thank you guys so much. ♥♥♥


— Accept the award; post it on your blog together with the name of the person who has granted the award and his or her blog link.
— Pass the award to 15 other blogs that you've newly discovered. Remember to contact the bloggers to let them know they have been chosen for these awards.
So, in no particular order, we nominate the following bloggers:
aniiita89
serenene
jae
kuri♥ayu
thiamere
miumiu
rosamond
summer
yumeko
ceecile
mika
nicole amber
eki
akisa
mitch
Wow, there are so many giveaways going on at the moment! Here are a few more from some nice bloggers:


Aside from some yummy pocky and a cute shirt, Marietta is also giving a Sleek palette away! I really wish I could buy them myself in the UK, because I think they look really pretty.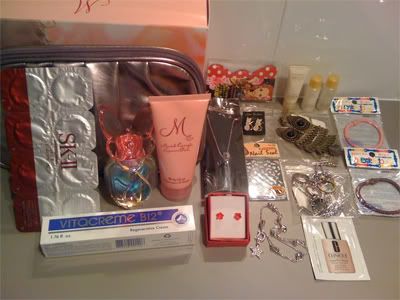 Ena is having a huge giveaway! Please go check it out. :)


Her followers sure are being Spoiled Rotten; look at all those products! Just click the picture to go to her blog~