My 'Love Your Body' card from The Body Shop was expiring and I only needed one more stamp to get my €15 discount so I thought I might as well take advantage of it.

I looked around the store and there wasn't anything in particular that I liked, but then I saw the shimmer waves I remembered that Bubzbeauty also had them. They come in 3 different shades and they cost €22 each. (Quite expensive!) Thankfully, there was a promotion going on and together with the discount I only paid €19 for two palettes!

The
'Bronze'
one is my absolute favorite out of all three palettes. The colors are very versatile in my opinion and the pigmentation is great. I'm surprised at the quality, but then again, they charge a whopping €22 for it.
I couldn't really decide between the pink or peach palette; both were nice but since I already have a few pink eyeshadows I went for the peach one.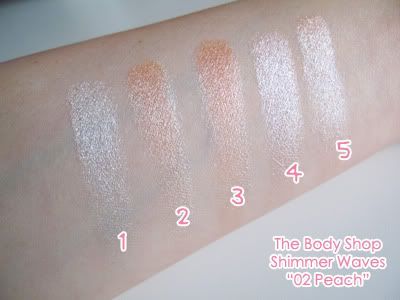 For some reason the 'Peach' palette is much more shimmery than the 'Bronze' one and some of the shades look pretty similar.



Overall, I'm very happy with my purchase but I don't know if I will buy more make up from The Body Shop in the future. I swatched a few of their single eyeshadows but the pigmentation wasn't all that great and for some reason a lot of their products are very very shimmery.

And we already have 41 followers! Thank you guys so much for following our blog and leaving such nice comments. We really appreciate it. Hopefully we'll be able to organize a 50 followers contest soon.