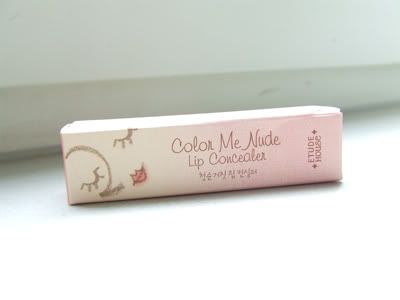 Have you ever seen a gorgeous looking lip product that made you think 'That would look hot on my lips'? Perhaps swatched it on your hand and still felt the same way, but when put on the lips it
just
doesn't seem as nice? This problem can be solved by putting a nude matte lipstick (or even foundation/concealer) on first as a base, but this lip concealer from
Etude House
called
Color Me Nude
is specially made for that. Does that means that it works better?
The packaging and product.


I absolutely love the packaging! I'm a sucker for pink/peachy colours, so this product was very tempting to buy for me. It looks like a lipstick and the product feels creamy and dry like how stick/solid concealers feel. The colour of the concealer is very nude duh with a very subtle peach in it (It's a little bit lighter than on this picture). I honestly don't think that this product would be wrong for anyone, because it just neutralizes the redness on your lips so that the lip colour of your lipstick/lipgloss will match more like the actual product's colour.
(Does that make sense? Haha, sorry if I sound confusing.

)


What it claims.

On the packaging, it says the following:
This lip concealer even outs the redness in lips, creating a smooth and neutral surface for long-lasting lipstick application.
Instructions.

I'll write down the instructions said on the packaging, but you can do it any way you like (it doesn't really say much really..):
Apply on the middle of upper lip and lower lip and spread evenly with finger.
I honestly prefer to rub some product onto my index finger and then just pat it on my lips, so that the product won't get under dead skin cells as much if my lips aren't scrubbed properly. It is best to scrub your lips beforehand, because this concealer is very dry and doesn't moisturize at all.

Milk was kind enough to photograph my lips since I find it hard to photograph it myself, so here are some pictures that can show you the differences:




Before; lips are scrubbed and moisturized.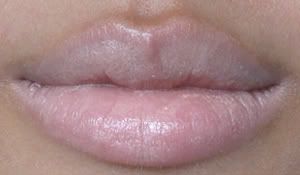 Concealed




After; I applied Dior Addict Ultra-Gloss Reflect 127.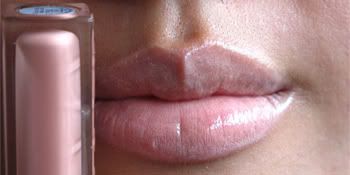 I tried to make a comparison shot with the lipgloss; it really looks similar, but it doesn't show as well on camera.

The verdict.

Works pretty good, but could be better. It brings out the colour really well and the packaging is cute and user-friendly. The one thing I don't like is that it is very dry on the lips, so you definitely need to scrub and moisturize your lips beforehand. I also don't really see how it sticks better to make it more long-lasting, so unfortunately this product is nothing too impressive.

Rating: 4/5




Once again, I'm very sorry for the lack of updating! I need to go back in routine again for school, so I will try to update more often when I'm more organized and stuff. I've been ordering quite some things, so I'll definitely write a haul post later! ♥