My classes officially started again since today, so I'll be more busy for the coming 9~10 months. :( Hopefully it will not affect our blog updates a lot and I will try to update as frequently as possible. Anyways, today I'm going to review this incredibly cheap product I bought at Sasa.com called Hipitch Deep Cleansing Oil.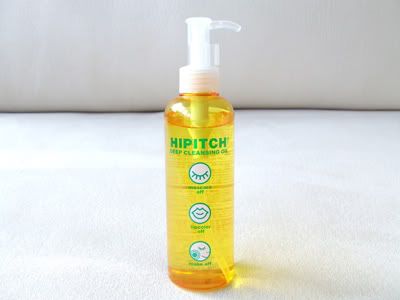 Truthfully, I was looking for a cheap alternative of the Shu Uemura oil cleansers as I think that they are too expensive. Of course, the quality of the product might be better and the packaging might look nicer, but I somehow think that almost any kind of oil would do the trick. The Hipitch Deep Cleansing Oil had some good ratings at Sasa.com, so I decided to try it out.
First impressions.

The packaging as you can see on this picture, is very cheap looking and seems like you could buy it at any Japanese drugstore or even at the supermarkets. As mentioned before, it is very cheap: it cost $6.50 for 215 ml. That's a lot cheaper compared to the cheapest Shu Uemura cleansing oil I can find on Sasa.com, which is $32.30 for 150 ml. The oil is surprisingly watery, so a lot will already come out with just one pump. I'm still finding out how much product I actually need for every wash, but in my case, I don't use more than 3~4 pumps. I don't know how long this product will last because I don't use make-up daily.


Description.

The description and everything else on the bottle is Japanese, so I can't say much about the official description. However, at Sasa.com it says:
With natural cleansing materials like orange oil and eucalyptus oil, KOKURYUDO Hipitch Deep Cleansing Oil instantly dissolves water-proof mascara, lipstick and suncare makeup.
Instructions.

Basically said, you just need a few pumps depending on your amount of applied make-up and just apply it on your face. Massage to gently remove all make up and rinse well with water. I've tried to snap a few pictures of when I was removing my eye make up, in case you've never tried any oil cleansers before:





Before. I should've used more drastic colours to test this out..Oh well, there's always room for improvement.





I seem in pain here, but I was messing around with the camera too long and the oil started to get into my eye.

But it doesn't sting whatsoever, it just doesn't feel nice to have oil in your eye. I'm not sure if you can see it on this picture, but your make-up will look really messy, hehe.





All clean! Don't worry about the red eye, I forgot to take off that contact lense before washing...hehe.

The verdict.

I love it! I don't have any waterproof make-up at the moment, so I'm afraid I can't test on how well it works for that. I do believe that it will work just as well, as long as you massage it good and rinse well. It's very gentle on the skin and so far it hasn't break me out or anything like that. However, this smells quite a lot like oranges so people sensitive to that smell might not like that. Either way, this is definitely a recommendation for anyone who doesn't want to pay 30 bucks for 150 ml of Shu Uemura goodness. UPDATE: Just found out that Majolica Majorca Lash Expander Frame Plus is waterproof (Doh!). That's the mascara I used for the example pictures, so it does work really well on waterproof mascaras as well.

Rating: 4.5/5