Finding products which suit your skin and using colors which are flattering for your complexion is very important. Therefore, my first post will be an insight on my skin; my skin type, skin tone and the products I use on a daily basis. Hopefully it will give a better idea of what kind of products may work for you.

Let's start off by mentioning my skin type, which is dry, sensitive skin. For most people who have dry skin, the skin is also more fragile and sensitive. This is due to the fact that the outer layer of skin, also known as the epidermis, is weakened. The epidermis serves as a protective barrier against the harsh environment. So naturally, if the skin is dry and peeling, the barrier is not as strong. (Not sure what kind of skin type you have? Check out the Clinique website and click 'My skin consultation' to analyze your skin.)

I am also very sensitive to temperature changes which makes my skin very blotchy and red. And my main concern would be my pigmentation problems. (Fair, sensitive skin, freckles. I almost sound like a redhead!) The good thing is that I rarely get pimples. Usually, my skin is clear aside from maybe a pimple or two during that time of the month.

So, now onto my skin tone. I have fair, Asian skin with slight yellow undertones. (duh. lol.) As reference, I am not quite an NC20 at MAC (too dark) and NC15 is too white for me. If it was possible, I would probably be an NC18. I currently mix the two shades to get a good match (about 2/3 of NC20 and 1/3 of NC15). I find that by doing so, I neutralize the orange/beige tint of the NC20, especially since it oxidizes a bit and makes me look like I am constipated ate too many carrots. (Update!! I got a sample of NW20 and it looks so much nicer on me. Might be a bit lighter in the winter though since I tanned just a wee bit.)

Now that you have a better understanding of my skin, I will show you the daily skin care products I use.




Morning.




Since I have dry skin and don't get oily througout the night I have no need to wash my face with a face wash. Luke warm water and a soft face cloth does the trick for me. The following step might be unnecessary for some, but I personally enjoy using a toner. The one I am currently using and absolutely love is the 'Tonique Confort' by Lancome. The consistancy is not exactly watery, but slightly thicker than your regular toner. It is also not a clear liquid, but slightly milky. It leaves my skin feeling soft and hydrated and banishes the icky, tight feeling after I wash my face.

What I forgot to mention is that I mainly focus on hydrating my skin in the morning whereas I use whitening products at night time.

After prepping my face with a toner, I follow up with a serum. The one I am using at the moment is by Gowoonsesang, the 'Hydrating Intensive Essence'. I have only started using a hydrating serum since the beginning of the year because the cold winter weather made my skin horribly dry. Using a serum really did help keeping my skin moisturized and flake-free throughout the entire day. I let the serum absorb into the skin for about half a minute and then proceed with my daily moisturizer. The one I use is the ~H2O+ 'Face Oasis Hydrating treatment' (oil-free). The good thing about this moisturizer is that it is gel based and oil-free. I prefer using light products because I put lots of layers on my skin during the day.

Before I apply any make-up, I will use Neutrogena's 'Ultra Sheer Dry-Touch Sunblock in SPF50+' on my face and neck. I cannot stress enough how important it is to protect your skin against the harmful effects from the sun! Any kind of sunscreen or sunblock must be applied at least 30 minutes before you leave the house in order for it to protect your skin.


Night.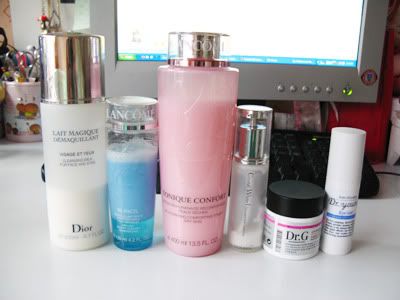 As for night time, I remove my face make-up with the 'Lait Magique Demaquillant' by Dior. Depending on how I feel (lazy!!) I would use it with a cotton pad to gently remove most of my foundation. On days that I do feel lazy, I just pop into the shower and use my Shiseido 'Benefiance Creamy Cleansing Foam'. Ha, I know, I know. The Benefiance line is more geared towards mature skin, but it's just sooo creamy! And to remove my mascara, I use the popular 'Bi-Facil' by Lancome.

After removing all the rubbish from my face I prep my skin using the same toner, ('Tonique Confort' by Lancome) followed by the 'Crystal White Concentrate Essence' by IsQueen. This product claims to help prevent the formation of Melanin, which is exactly what I need! My skin produces too much Melanin which results in my freckles. To maximize the results, I also use a whitening cream which is the 'Whitening Reformer' by Dr. G. This cream is amazing! Probably the best I have used thus far. It is super moisturizing without being creasy and it helped reduce the redness around my nose and smooth out the dry patch on my jaw. Love, love, love! ♥

Last, but not least, I use an eye gel. I have only started to use the Dr. Young 'Anti-Dryness Eye Gel' about two weeks ago because my eye area is quite dry and I can't apply concealer without it looking dry and cakey. So far, no drastic change, but the undereye area does appear more smooth than before.

Congratulations! You have reached the end of this ridiculously long post! Haha! It might sounds like a lot, but when I apply it, it isn't much work. Not even for a lazy bum like me. :D I'll just sum up the products and the order I use them.


Morning:

1. Tonique Confort by Lancome.
2. Hydrating Intensive Essence by Gowoonsesang.
3. Face Oasis Hydrating treatment (oil-free) by ~H2O+.
4. 'Ultra Sheer Dry-Touch Sunblock in SPF50+' by Neutrogena.

Night:

1. Lait Magique Demaquillant by Dior.
2. Bi-Facil by Lancome.
3. Benefiance Creamy Cleansing Foam by Shiseido.
4. Tonique Confort by Lancome.
5. Crystal White Concentrate Essence by IsQueen.
6. Whitening Reformer by Dr. G.
7. Anti-Dryness Eye Gel by Dr. Young.