For us, skin is the largest organ of the integumentary system, which means that bad skin conditions can affect you a lot physically as well as mentally. This is why I think skincare is very important for all of us, even if you're not too much into beauty and all that. I'm going to write about my skin condition and daily skincare routine in this post that will hopefully help some of you who have a skin type similar to mine.

According to the Clinique skin consultation, my skin is dry combination. This means that my skin can get really flaky and fragile, but will also start shining (mostly around the T-zone) because of the excessive oil that's been produced by my skin.

I have breakouts ocassionally, especially on my jaw line; these usually come before my period. I also have to mention that I've been dealing with eczema on different levels on my body as well as face, so I have to be extra careful of what kind of products I'm using. For face wash I use a brand called Zarqa which brings out products that are safe to use for most people who have eczema. I don't use their face creams as they don't moisturize my face enough, but I guess that depends on each person.

What about my skin tone? To describe it roughly, I have slightly? tanned Asian skin. Even without tanning, I'm a bit darker than the average Chinese girl I know. As reference, I am NC42 at MAC (during summer, I'm a bit lighter during winter).

That's basically how I can describe my skin the best. Now moving on to my daily skincare routine with the products I use.


Morning.

To prevent my skin being oily, sensitive and/or fragile during day, I'd need to cleanse it without drying it out too much. So instead of using a heavy cleansing wash, I only use the Zarqa Pure Skin Cleansing Tonic. This tonic is basically a 2-in-1 product; it gives me the refreshing feeling of a tonic/toner and cleanses my skin effectively. To do this, I put a bit of the tonic on a large cotton pad (here's a picture since I suck in describing it lol) and just gently wipe off the oil/dirt on your face with it. I actually put a little tonic on half a cotton pad, so I can do this twice to make sure I'm not missing a spot. I know this product works because when I look at the cotton pad, I can actually see the oil/dirt that came off my skin. Too much information? Haha..sorry.

After cleansing I put on the Laozhongyi Acne Removing Cream. This cream smells a tad bit like traditional Chinese medicines, but you can't smell it after applying. It really works incredibly good for me as I don't have horrible breakouts anymore (combined with facial treatments and masks) and my skin doesn't get irritated fast like before. You'd need very little each time to apply, so it can take up for about 2-3 months to empty one jar. I buy this cream through my beautician, and I'm sorry to say that I have no idea of how to get it otherwise. They have a website but it's only in Chinese. I can't read it but in case you do, this might show you where to get it.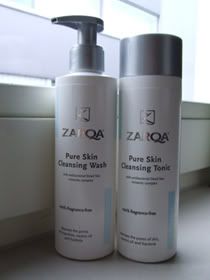 Night.

The products I use at night are basically the same, except that I use Zarqa Pure Skin Cleansing Wash before the tonic. I'm not sure if it's really that necessary, but I feel like I need to do a bit more after a day out to cleanse my face thoroughly. This product comes with a pump, and I just use one pump for each wash. I massage it gently on my face and I'll go through the areas where I have acne often a little longer to prevent future acne/pimples and scars (if there are 'open wounds'). After this, I apply the tonic and cream as described before.

As you can tell, my daily skincare routine is really minimal and somewhat lacking. This is mainly because I have been focused on how to get rid of my acne. I started having pimples since the beginning of my puberty, and it was at worst when I was 14-16 years old. This period of time was also when I was desperately looking for products to help my skin get better. However, there were minimum to no improvements to my skin conditions with any products I tried. I ended up seeking for help at beauticians; thankfully I found one that wouldn't just rip me off but actually gave me tips and products that would really help my skin improve. I definitely recommend going to a good and trustworthy beautician if you don't want to use too much money on trying out new products and just want something that works and is affordable.

That's basically it! I will be updating this post later because I seriously need some more "skin protection", lol. I also believe that the best product doesn't need to be the most expensive one, so I'll be looking for high quality affordable products that might interest you. But for now, summarizing my daily skincare routine:


Morning:

1. Pure Skin Cleansing Tonic by Zarqa.
2. Acne Removing Cream by Laozhongyi.

Night:

1. Pure Skin Cleansing Wash by Zarqa.
2. Pure Skin Cleansing Tonic by Zarqa.
3. Acne Removing Cream by Laozhongyi.