Queen's Day is the biggest national holiday in the Netherlands and is celebrated on the 30th of April. As the name already suggests, it is a day that us Dutchies celebrate our Queen Beatrix, but this year will mark the last Queen's Day as Prince Willem-Alexander will succeed as king. So from 2014 onwards, Queen's Day will be known as King's Day.

The cool thing about Queen's Day is that the entire country will become one GIGANTIC flea market as everybody is allowed to sell their items on the streets! There will also be a lot of street parties and festivals so that is why I put together a casual, festival inspired outfit with of course, a lot of orange accents!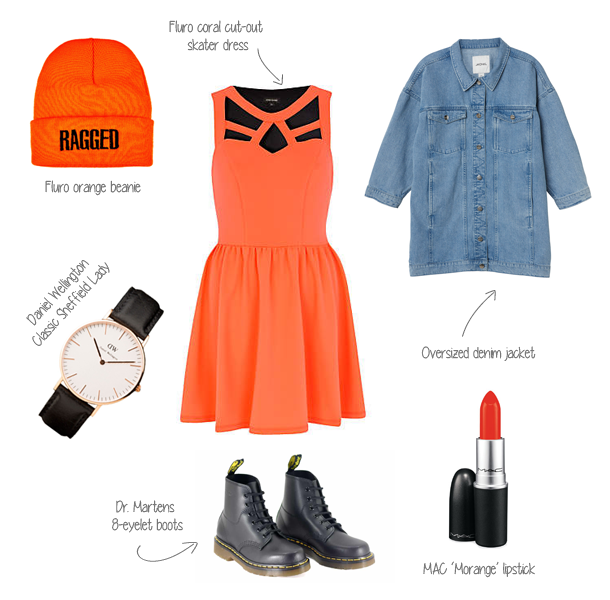 Fluro cut-out skate dress - River Island (€46) ● Oversized denim 'Tova' jacket - Monki (€55) ● Fluro orange beanie - 'Ragged Priest' available at Topshop (€20) ● Dr. Martens 8-eyelet boots - 'Dr. Martens' available at Urban Outfitters (€131) ● Classic Sheffield Lady watch - Daniel Wellington (€159) ● 'Morange' Lipstick - MAC (€17)

*** Note: Prices may differ per country and retailer.
I would totally wear this outfit (
if I had the money to purchase everything lol
)!

I already have the
'Dr. Martens'
boots and
'Monki'
oversized denim jackt.

This is the first time that I posted an outfit so please let me know if you like it and want to see more of these kinds of post in the future.

TWITTER | INSTAGRAM | FACEBOOK | BLOGLOVIN' | TUMBLR (COOKIIE)