Now I have to face it: I have no excuses anymore to not update more regularly. After more than a week not updating, I will have to treat you all two posts within 24 hours. Haha, yeah I know that's not that impressive, but I think you will understand if you're an old follower of us (read: we simply fail updating regularly). :P

In this post I'll be writing about my first Gmarket order. I wanted to get a cute planner and Gmarket has plenty of them. They have fixed shipping rates, and they're not that cheap at all if you're not being careful with picking out the right products. So I picked some other items to make full use of the flat rate. Maybe I'll write more about the order process later, but it's kind of earlylate now and my brains don't want to work properly anymore.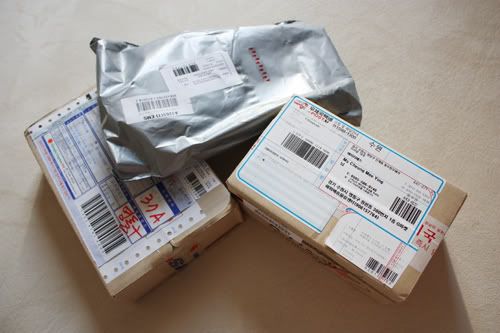 The packages. Not sure if they came seperate or together in one big box, but I had it sent to Hong Kong because my brother was there and could bring it home with him when he came back to Holland.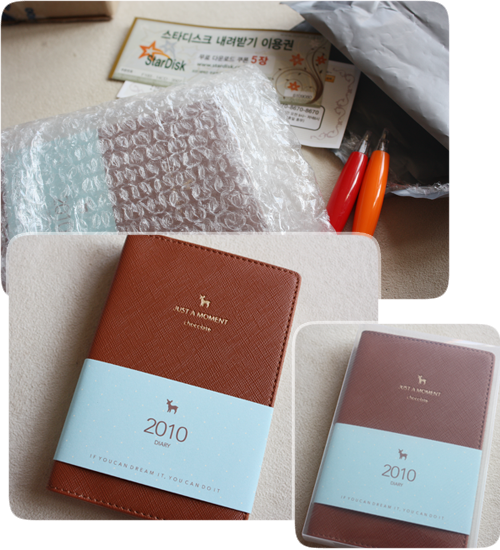 The planner. I got free gifts inside each package and with this one I received two pens and some coupons. I'm not sure if I'm right though, because I can't read Korean and obviously can't use them either. The pens are really cute though (there's like a ball on the top which I failed to capture on the picture) and write nicely in black.

And now the extras: nail polishes! These are from the brand Npeal and they have some really nice pastel colours. I also got a white nail art polish so I can make cute little dots and stuff. I'm planning on wearing nail polish more often now, so be prepared for some nails of the days~ As for the free gifts: Why hullo thar Mr. Kim Bum! Inside the box are some cotton pads that go with the free nail polish remover. It's a pretty big bottle, so I'm reaally happy with this seller.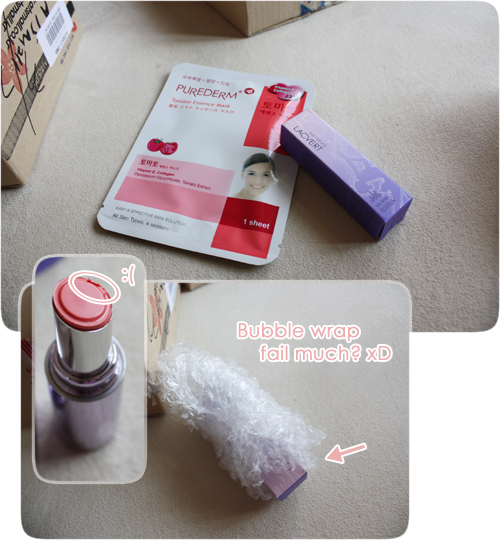 Lacvert Ice Kiss lipstick in 'Yuna Peach'. Milk has been raving about this lipstick, so I decided to order the peach one. I'm not so sure about this seller since, although it was packed nicely in a box, the bubble wrap wasn't really securely wrapped around the lipstick. There's also something wrong with the packaging of the lipstick, as I can't twist back once I twisted it up (I asked Milk and hers is perfectly fine). Ended up chipping the product a bit, so that makes me a little unhappy.
As a gift I got a PureDerm mask..not sure if I'm going to use it though.

That's all for the Gmarket order. I might be ordering again when I go to Hong Kong myself in July, since I'm overally quite satisfied with the order. It's a shame for me that the shipping rates to Holland are kind of crazy, but if you're in Asia, you'll definitely be able to enjoy some nice shipping rates. :)

I'll be ending this post with a pseudo teaser for the next post, as this packaging fail is part of another sasa haul of mine.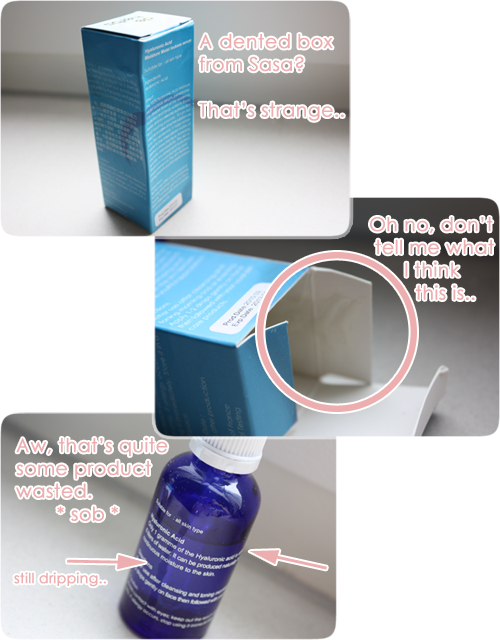 Yes, about 1/3rd of the product has spilled. I guess both Milk and I need to be careful with ordering serums this month, haha.

Good night! And anticipate my next post within 24 hours, hehe ~