Ah, my first product review and it is going to be about the 'Banila Co. Prime Primer Mineral'.

Banila Co. is a Korean brand and the primers are one of its most popular products. Unfortunately, all information given on their website is in Korean so I pretty much know as little about the company as you guys do. ^^;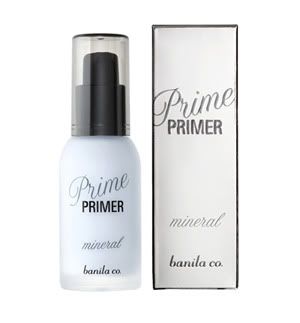 The primer comes in three different versions. There is
'Prime Primer Matte'
which is for oily skin, the regular
'Prime Primer'
which is for normal/combination skin and of course, the
'Prime Primer Mineral'
, which is for dry skin types.
Packaging.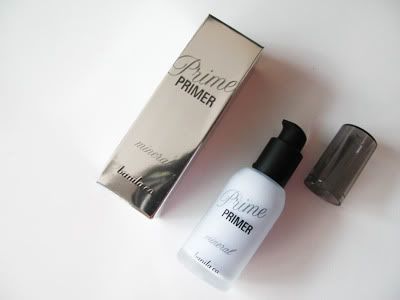 The primer comes in a glass bottle with a pump dispenser and contains 30ml of product.


The product.

I was surprised to find that the primer was lavender colored since it was not mentioned in the product description and it looked white in the provided photos. I was quite pleased since I wanted to try a lavender primer anyways cause Fuzkittie keeps raving about how it helps brighten up your complexion.

Now the scent might be a problem since it is quite heavy. Personally, it doesn't bother me too much cause it is quite a nice floral fragrance, but if you dislike (strongly) scented products, then this might not be for you.

The consistency is relatively thick, especially compared to the 'Make Up For Ever HD Primer' which is slighly runny. (The consistency may vary depending on the type of the Banila Co. primer) After I applied it, I can clearly notice that my skintone looks brighter and more even. It also leaves the skin feeling smoother, it feels somewhat similar to 'Prep + Prime' by MAC.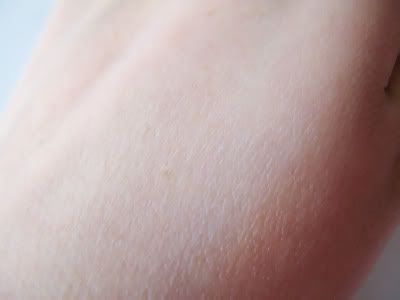 It is quite difficult to tell from the picture, but in person you can tell that it looks brighter.



What I really like about this product is that it makes my skin look more luminous and dewy even after I apply my foundation. Normally my foundation can look a bit powdery because my skin is dry.

I would say that this would work really well during the winter time since it does feel more hydrating than the 'MUFE HD Primer' but it's maybe a bit too thick for the summer, especially since I have to put on my sunscreen underneath it.


The verdict.

Overall, I quite like this product but it is a bit hard to rate it since I do not have any other lavender colored primer to compare it with. In terms of brightening the skin and making my foundation last I am quite pleased, therefore I'll give it a 4 out of 5.

Pros: Brightens and smoothes out the skin. Is quite hydrating. Comes in different versions to match skintype.
Cons: Relatively hard to find. Strong scent. Does not contain SPF. All information is given in Korean.

Rating: 4/5