Erk, I don't think it hasn't been updated for so long before. I'm sorry guys! To be quite honest, I've been feeling a bit down lately due to all the worries that has piled up in my mind. I basically lost all the motivation to do anything really, I couldn't even practise singing for a short amount of time. Don't worry though, I'm feeling a lot better now, so here's a quick update of my most recent purchases/packages. :)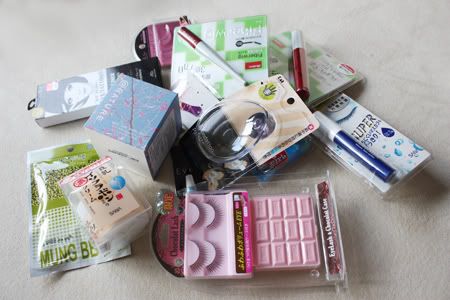 I'm sure everyone already knows how much I love/hate Sasa. :P This package actually arrived in January, but I've already ordered twice again this month! Haha, I know it's a bit much, but my mom needed her eye cream.
As usual, I have no complaints about ordering at Sasa.com. However, I ordered through the new browser Google Chrome without thinking much about it and for some reasons the order wasn't registered on my account. I was definitely logged in so it was a bit weird, and when I contacted Sasa they just told me that the next time I should just log in before purchasing. I told them exactly how the situation was, but I guess they didn't believe me.

So yeah, my tip for the silly ones like me: They shouldn't be asking your e-mail address on the confirmation page if you're logged in and err.. don't use Google Chrome to order.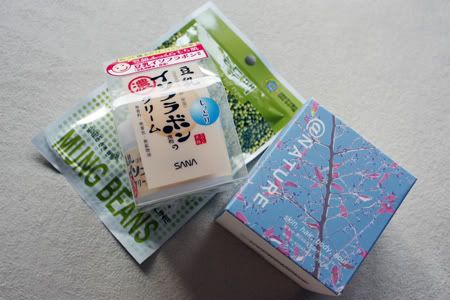 Cosline Natural Mung Beans Natural Powder Pack, Sana Nameraka Soy Milk Cream, BeautyEasy ROSE Rose Flower Facial Night Jelly EX. I've tried the mask once and I'm not really impressed by the first use. I'll try it a few more times and see if it's worth updating. I've been planning a moisturizer review for a while now so please wait just a little bit longer for the whole thing~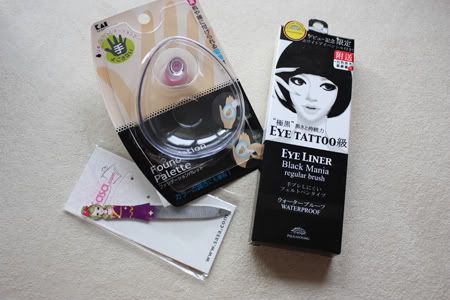 Kai Liquid Foundation Palette, Palgantong Eye Tattoo Liner Black Mania Regular Brush (Black Mania) and a nail file as a gift from Sasa. Love the foundation palette but hate the eyeliner. Maybe it's because my eyelids are oily, but just after a few hours it'd be all over the place. It really sounds a lot better than it is for me, sadly.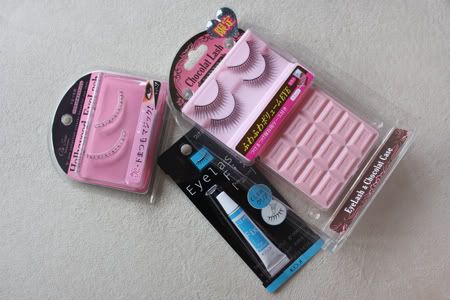 Be Creation Hollywood Eyelash (Lower) Hollywood Eyelash - Cuteness Style, Be Creation BI JOIE Chocolate Lash—Strawberry Chocolate (limited edition), Koji Eyelash Fix (Clear). The case is soo cute! Haven't used the lashes yet since I'm a newbie to lashes, but I'll definitely try them out later.


Dejavu Fiberwig 3D Mascara(Pure Black), Dejavu Fiberwig Finisher (Pure Black), Kiss Me Goodlash Power Beam Eyes, Sana Powerstyle Mascara Quick Remover. Love the Kiss Me mascara. I just randomly found it on Sasa and it had tons of good ratings so I decided to try it out.


Next package! This came from Ann&Mich. They sell through their livejournal account, but they post updates on their blogspot. They're very reliable and do sprees regularly, so do check them out if you want some Asian cosmetics sold for great prices.

Bought the Skin79 Super Plus Triple Functions BB Cream (Hot Pink) and All Day Sun Powder. This is the first BB cream I've found that isn't too drying for my skin and the powder is really nice too. I wish I bought the pressed powder instead though, since it's can get so messy.


And last but not least: Stephy's swap package! She saw that I wanted some brushes that I can't get here so she said she could buy them for me. I wanted to make it a swap, since that way I wouldn't feel like I was bothering her too much.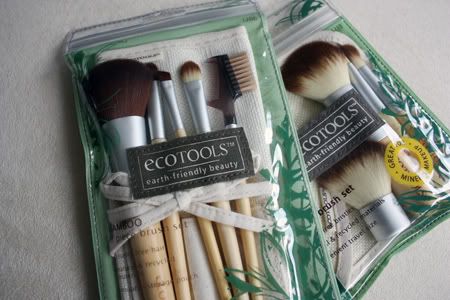 EcoTools Bamboo 5- and 6-Piece Brush Set. Sooo soft and nice!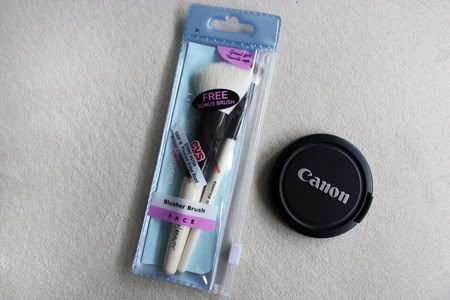 Essence of Beauty Angle Blusher and Touch-Up Powder Brush and an extra Concealer brush. They're so tiny, just look at the comparison between the size of my camera's lense cap and the brushes! I think the Concealer brush is made from synthetic fibers, but the blush brush is made from natural bristles. I reaally need to try and get rid that smell, because the strong was so strong after the first wash!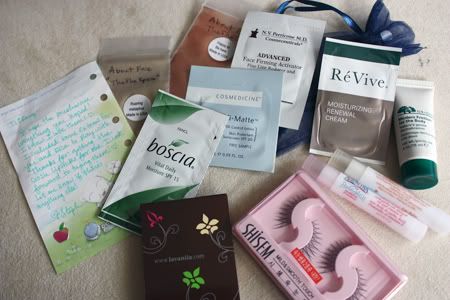 Stephy was nice enough to give both me and Milk sooo many extras. ♥ Thank you once again~

Soo yeah, I have a lot of stuff to use and review again, haha. Do let me know if you want anything reviewed. If there are any questions, don't hesitate to ask by commenting or e-mailing. ^^