Finally, I bought a new tube of my favourite mask again, so I can show you guys what additional products I use. There's not much that I use, but they're definitely necessary if you want to maintain your skin well.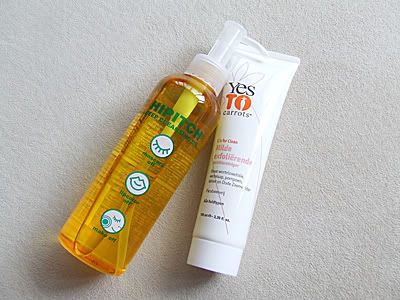 Whenever I use make up, I'll use the
Hipitch Deep Cleansing Oil
to remove it all at the end of the day. For exfoliating, I use
Yes to Carrots Gentle Exfoliating Facial Cleanser
. This exfoliator works for both cleansing and exfoliating, so I would skip the cleanser if I'm using this. I exfoliate about once in 2 weeks.
After exfoliating, I would always put on a mask to prevent my skin being too dry. Currently, I'm using these masks:
Silk Whitia Quick Action Moisturizing Mask
Artistry Moisture Intense Masque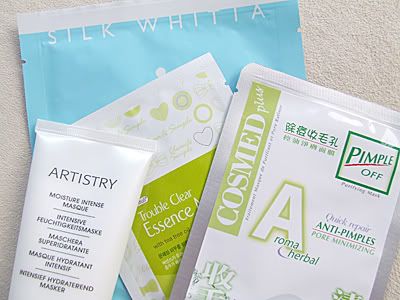 These two masks are mainly meant for moisturizing. Before I realized how important moisturizing was, my main priority was to minimize my acne as much as possible. Therefore, I ordered these:
Cettua Trouble Clear Essence Mask
COSMED PIMPLE OFF Anti-Pimple & Pore Minimizing Purifying Treatment Mask
I've also been wondering how to get rid of black- and whiteheads lately, but so far I haven't tried anything else but the traditional nose strips. However, I purchased the
Shiseido Laboratories Evenese Dr Mask II Sensitive Skin Care
(pfft, talk about long names), but I haven't tried it out yet. So far, I'm not so thrilled by the inconvenient packaging.
That's basically all the additional facial products that I use. In order to not make this post too long, I'll write another post about how I use these products and some other skincare tips. I will also update my daily skincare routine post soon, so please check that out later if you've got a similar skintype. :) Oh, and if anyone want any of these products reviewed, don't hesitate to request it by commenting~