Just thought I would post a quick follow up on the Lunasol Skin Modeling Eyes palette in 'Beige Beige'. In my previous post, I mentioned that the Lunasol eyeshadows have a soft sheen to them and have a different finish compared to shimmery eyeshadows of western brands.

I thought it would be interesting to see swatches of the Urban Decay 'Naked' palette side-by-side with the Lunasol 'Beige Beige' to give you guys a better idea with what I mean with the finish.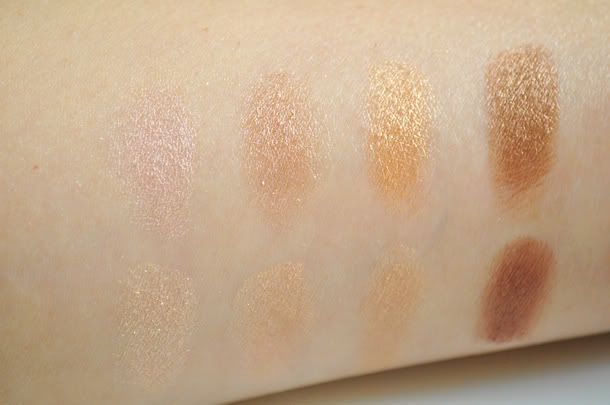 The top row are the Urban Decay shades in: sin, sidecar, half baked & smog
As you can see, the
Urban Decay
eyeshadows tend to look a bit more metallic. Both are gorgeous, but for an every day look I would prefer the
Lunasol
shades because they look softer and more feminine.
Hope this was helpful to some of you!