To prevent this post from being ridiculously long, I will just briefly tell you what kind of additional skincare products I use.

About once or twice a week, I exfoliate my skin using either the St. Ives Apricot scrub or the Microfine Refinisher by MAC. Both scrubs are actually quite harsh as it has a high concentration of exfoliating beads, but I find that if you wet your hands and face well enough and apply it with very, very gentle motions, they work pretty well. You can also try mixing a bit of your regular cream wash to 'dilute' the product.

Usually, after I exfoliate I would use a facial mask. The masks that I currently own are:


Silk Whitia Quick Action Moisturizing Mask

Silk Whitia Anti-Oxidation Whitening Mask

DHC α-Arbutin White Mask

Neutrogena Fine Fairness Deep Whitening Mask

Laneige Water Sleeping Pack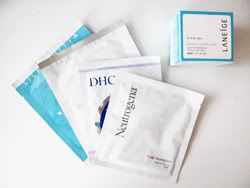 To get rid of those icky blackheads and whiteheads I use
Shills Deep Cleansing Black Mask
which you can peel off after 20 ~ 30 minutes. It works similar to pore strips, but it is less painful when you peel it off.
Lastly, every once in a while I would steam my face using a facial steamer, but to be completely honest I rarely ever do unless I have some kind of special occasion.

Well, that is pretty much it. If you want a more in depth review of any products mentioned above, all you need to do is ask!